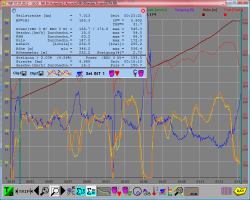 In sub-area single trip also show the theoretical power
In the graphical representation of a trip, the sum evaluation of a partial area is selected.

Left click on CT Power: Average power for theoretical portion.

Right-click on CT Power will calculate the theoretical power and shown in the graphic.
Right-click with holding:
Ctrl key allows entry of basic data for power calculations.
Shift key determines the theoretical power over the entire drive and displays them.